Structured Cabling You Can Count On
A data network is only as good as its weakest wire, which is why it's imperative that your business has structured cabling you can count on. At Net Tel One, you can rely on us to build a rock-solid foundation for your network that ensures you're ready for the future no matter what it brings.
Structured cabling is the last area where you want to cut corners, especially if you need to pass building or municipal installations or satisfy industry guidelines. With Net Tel One as your strategic partner, you'll never have to worry about your wiring. We'll manage all aspects of your cabling installation, whether it's a remodel or an entirely new construction. Our experts will coordinate with everyone involved to ensure the smooth completion of your project on time and within your budget.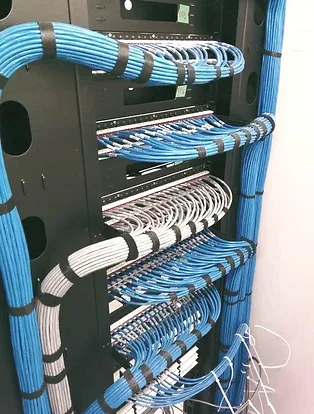 If you need to add employees, run more applications, or install advanced services, our cabling experts will offer unbiased advice and deliver end-to-end accountability every step of the way. We certify and install all major types of structured cabling including Cat5e, Cat6, fiber, and coax, and we'll oversee every aspect of your installation whether you have one location or 100.
Network design & planning.
Install & Maintain Cat5, Cat6, & Fiber Optics networks.
Troubleshoot & Test.
Cabling Services
Cabling Site Surveys
Site surveys isolate numerous variables that you may not be aware of and help minimize surprises during actual installation. Accurate site surveys can help you determine the feasibility of an instillation, budgetary constraints, and whether specialty tools or supplies are required.
Demarc Extension Services
A demarc extension is the process of connecting your organization's network to a data line – such as a Fiberoptic, T1, DSL, or POTS provided by an ISP or another vendor. Net Tel One has experiencing performing demarc extensions in many environments including warehouses, offices, schools, shopping malls, and high-rise buildings.
Network Wiring Testing
Wiring infrastructure is the foundation for every network. Our services include testing and certification of new or existing copper or fiber networks.
Fiber optic cable installation
Fiber helps your business get online. Fiber is becoming the preferred structured cabling because it can be run further and at faster speeds than typical Category cable. Also, with recent technological advancements, fiber is more durable and quicker to terminate than ever before. It provides an added level of future proofing for your network buildout. Our experienced field technicians are capable of planning, designing and installing networks comprised of only fiber or a combination of fiber and traditional copper networks. Once installed, we can also maintain, troubleshoot and upgrade your system as needed.
Structured Cabling Installation
Our structured cabling services can plan, design, install, maintain, troubleshoot, and upgrade any size network. From 1 to 1,000 drops, Net Tel One's team of technicians is ready to go to work for you.
Wi-Fi Network Installation
Net Tel One offers full service wireless network implementation across the country. We can design, plan, and install your network from start to finish. Each wireless solution is custom designed to meet the challenges and needs of your location.